Site News
The Karma Shop is open! Head over to the Karma board under "General Information" to learn more. Feros Ferio!
Plot News
Things are going pretty well for the wolves of Blacktalon. There are a few new recruits who have already proven their mettle by taking on the spring's first mission! With Tristan and Issy together at last, it seems that all is right in the world. Well, unless you're a male of Blacktalon. Bloomsday has never been a holiday that treated them well, favoring the gentler sex and allowing ladies to own the day.
Current Missions
Current Missions
none
Completed Missions
"Tristan and Issy"
Participants: Marina, Chance, Chase, Mikazaru
Member Spotlight

October's Member Spotlight is Brave! Brave is an active member of the roleplay, as well as being a fun person to be around. Congrats Brave!
Top posting users this month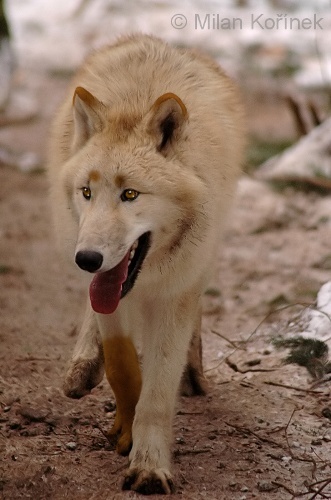 ''Havin' swag is'a job, not'a 'formance.''
Name || Mustafa
Nicknames || M. and Swagger (by his friends only)
Gender || Male
Age || 2 years
Breed || Hudson Bay wolf
Rank || Warrior
~~~~~~~~~~~~~~~~~~~~~~~~~~~~~~~~~~~~~
''Ya call me useless? Have ya seen mah status?''
Appearance ||
Mustafa is a Hudson Bay wolf with a light brown coat, but it's not as light brown as his brother's. His ear tips are a darker color brown and so is his tail tip, and his right front leg. On his forehead he has two 'Doberman-spots' in the same brown color. The male's eyes are brown with a slight mixture of amber.
The wolf has a quite strong build; he's a little bit bigger than most males, and underneath his quite soft coat are muscles hidden.
Personality ||
Mustafa is a bit of a rascal; he's stubborn and headstrong now and then, and takes orders badly. He can sometimes be caught stealing food from other packs or his own pack members and he likes to act all dominant when the real dominant wolves aren't around. This means he likes to pick on younger and/or weaker wolves.
Whenever the alphas are around he can suddenly change to a very loyal wolf, but when he's bored he will go back to his old habits of annoying and dominating others.
Mustafa can be a nice wolf though, especially to friends and family. And a lot might not really believe it, but this male is very trustworthy and protecting over the ones he loves. Does an enemy or a stranger with bad meaning touch one of his family members, friends or pack members, then he will stand up for those he cares for and protect them.
Strengths ||
The male is pretty strong, and will often win after having challenged someone for a fight, or after being challenged by someone.
Weaknesses ||
Mustafa doesn't have a great stamina; he can't run for too long. Neither is he that fast, but he can manage when he needs to flee or follow the other pack members.
Habits ||
This male is thanks to his stubborn personality a true womanizer and one who says he has 'swag'. This means that he often marches around like he's the king of the place, and that he likes to flirt with females. He also doesn't really like to talk normal English, so has his own, rather strange style of language.
Fears ||
It might not look like it, but Mustafa has a fear, like everyone else. For some reason he's slightly afraid of water, and neither does he stand being all alone in the darkness.
~~~~~~~~~~~~~~~~~~~~~~~~~~~~~~~~~~~~~
''Mah family is different, so? I'm'a mutt but I'ma proud mutt.''
Family
Father ||
Yamato; Hudson Bay wolf (state unknown)
Mother ||
Kaya; American grey wolf (alive)
Brother ||
Jeamesero; Hudson Bay wolf (alive)
Half-brother ||
Shun; American grey wolf (alive)
Half-brother ||
Hilya; Hudson Bay wolf-American grey wolf mix (alive)
Half-sister ||
Shaya; American grey wolf (alive)
Step-father ||
Esan; American grey wolf (state unknown)
Uncle ||
Battouga; American grey wolf (alive)
Aunt ||
Name unknown; American grey wolf (deceased)
Uncle ||
Miko; American grey wolf (deceased)
Aunt ||
Nillian; Iberian wolf-German shepherd mix (Deceased)
Cousin (male) ||
Daigo; Iberian wolf-German shepherd mix (alive)
Cousin (male) ||
Anon; Iberian wolf-German shepherd mix (alive)
Cousin (male) ||
Modeste; Iberian wolf-German shepherd mix (state unknown)
Lehrling





Posts

: 479


Join date

: 2013-07-01


Age

: 22


Location

: the Netherlands

My Character
Mate/Crush: Someone. c;
Talents: Speaker, Caregiver
Roleplay Items: Second character: Jeamesero


I love this character :3 So cool

Pup





Posts

: 113


Join date

: 2013-07-01


Age

: 24


Location

: The internet

My Character
Mate/Crush: Pfft. As if.
Talents: Being a fluffy ball of anger
Roleplay Items:


Lehrling





Posts

: 479


Join date

: 2013-07-01


Age

: 22


Location

: the Netherlands

My Character
Mate/Crush: Someone. c;
Talents: Speaker, Caregiver
Roleplay Items: Second character: Jeamesero




Similar topics
---
Permissions in this forum:
You
cannot
reply to topics in this forum