Site News
The Karma Shop is open! Head over to the Karma board under "General Information" to learn more. Feros Ferio!
Plot News
Things are going pretty well for the wolves of Blacktalon. There are a few new recruits who have already proven their mettle by taking on the spring's first mission! With Tristan and Issy together at last, it seems that all is right in the world. Well, unless you're a male of Blacktalon. Bloomsday has never been a holiday that treated them well, favoring the gentler sex and allowing ladies to own the day.
Current Missions
Current Missions
none
Completed Missions
"Tristan and Issy"
Participants: Marina, Chance, Chase, Mikazaru
Member Spotlight

October's Member Spotlight is Brave! Brave is an active member of the roleplay, as well as being a fun person to be around. Congrats Brave!
Top posting users this month

APPEARANCE l
Claudia has cream fur with dark sprinkles on her tail and back. With a thick, fluffy coat, the darkness comes off as an ashy dusting in comparison to main cream colour that fades into white on her muzzle and underbelly. The edges of her eyebrows are darker like her tail and back, which gives Claudia an expressive face as you can clearly see her eyebrow movement. Her warmth is something she is known for with her dark brown eyes that give her an innocent and sweet appearance.
As the runt of the litter, Claudia is smaller than most wolves. Though she is from France, her accent isn't really thick. However when she says particular words she does have a thicker accent, which other wolves may pick up on.
HISTORY l Born and raised in a French circus, Claudia was trained to be obedient to perform the tricks her trainers wanted her to do. People came far and wide to see the cute wolf pup perform her circus stunts.

Starting off as a a side attraction, her popularity grew with her trainers becoming more adventurous in what they would teach Claudia. Soon she had began to learn different tricks ranging from the simple, 'play dead' to jumping through hoops and running through obstacle courses.

Despite her popularity, there was one person that did not like her one bit; the circus boss. She was merely trying to find ways to throw Claudia out, even when her trainers loved her dearly, and so with a beady eye watching Claudia's performances, it was only a matter of time.

Eventually people got bored, and less people would pay to see her. That was the first straw. Her trainers were instructed to up the stakes and teach Claudia more dangerous tricks. Tricks that scared Claudia. Tricks that would hurt her. Claudia's obedience had stayed strong, and she tried to perform the tricks they wanted her to do, but some where too difficult for her size and stature. Even though she tried with all her heart and spirit, it wasn't enough for the boss, and she was abandoned while they were travelling to their next venue.

She waited in the same place for a while. Waiting for her trainers to come back. Remembering the sadness on their faces as they had to leave. The sadness confused her, but then it began to make sense when they didn't return.

After being abandoned, Claudia travelled for a little bit. She built up some skill, but nothing really substantial that would allow her to survive by herself for too long. She knew that she had to find somewhere quick, and that's when she found a pack that welcomed her in. She became a popular member amongst the group, but was a sweet friend to a select few. One in particular holds most of her affection, though he'd probably faint when she builds up the courage to tell him...if she builds up the courage that is.

Others seemed to notice their feelings towards each other, but as per usual with these sorts of stories, they were too focused on their own feelings. Her love was her best friend. Her Boy. They travelled together until finding the Blacktalon guild together
PERSONALITY l
Despite Claudia being abandoned, she still doesn't mind humans in the slightest. She grew up with them and she was close friends with the people that trained her all the time. They taught her and gave her rewards when she did things right, so she was obviously going to be obedient and friendly to them because she liked their comforting side more than their reprimanding side.
Claudia is a nice wolf and can be a little naïve when talking about humans. She understand the dislike toward them, though she doesn't really feel hatred towards them all. She feels that there's no point in being angry at the whole human race, when it was once person that hurt her.
Claudia is thick skinned, if someone insults her then she doesn't get offended by it. She takes it in her stride and either proves them wrong or says something back. Despite being the runt of the litter, she wont let people walk all over her...if she noticed they were doing it, that is. She's an obedient wolf, so if someone was nicely telling to do something, then the chances are that she will go do it. That's just the way she is.
Claudia is playful and girly in the sense of she doesn't like getting too dirty. She likes to be presentable and make a good impression. Though if she was pushed in the mud her reaction would most likely be to pout and then giggle, before pushing them back playfully.
Generally Claudia is a sweet and nice wolf, who is friendly to pretty much anyone. The only time where she isn't friendly is when someone is making fun of/ hurting her friends. That's when she will have a bit of guts and stand up for them.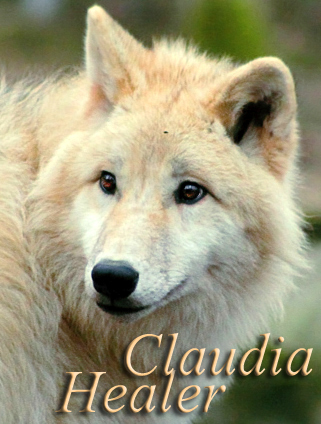 WEAKNESSES l
Claudia isn't a very strong hunter. As a circus wolf, she did tricks for her food. Though since being out in the wilderness she has improved in her skill. She still has a lot to learn though.
Her obedience and innocence may be a weakness that can be exploited
STRENGTHS l
Claudia is good at running, and she has a talent in climbing and jumping from things due to her training.
Her determination to help other people. She didn't like the feeling of being abandoned, so she helps others when she can. This is the reason why she'd make a good healer.
TALENTS l
Claudia can perform simple tricks that dogs can do. She can also perform harder tricks such as jumping through hoops, and climbing trees. She can also use her surroundings to jump and climb.
CRUSH l
Well there's this Boy...
Pup





Posts

: 113


Join date

: 2013-07-01


Age

: 24


Location

: The internet

My Character
Mate/Crush: Pfft. As if.
Talents: Being a fluffy ball of anger
Roleplay Items:


It's going to be so sweet to see Clauds and Boy together again!
Lehrling





Posts

: 34


Join date

: 2013-07-01

My Character
Mate/Crush: I do like this girl but I'm still very nervous about it
Talents: Climber, Caregiver
Roleplay Items:


Aw, I know, I'm looking forward to it so much :3 and getting to meet all the other characters :3 I think Claudia is going to like Chance, she'll think he's a little sweetheart

Pup





Posts

: 113


Join date

: 2013-07-01


Age

: 24


Location

: The internet

My Character
Mate/Crush: Pfft. As if.
Talents: Being a fluffy ball of anger
Roleplay Items:


Oooh, a circus wolf! Interesting character! o;
Lehrling





Posts

: 479


Join date

: 2013-07-01


Age

: 22


Location

: the Netherlands

My Character
Mate/Crush: Someone. c;
Talents: Speaker, Caregiver
Roleplay Items: Second character: Jeamesero


hehe, thanks Mika :3 Can't wait to RP her against everyone :3 I'm curious with how they'll react to her :3
Pup





Posts

: 113


Join date

: 2013-07-01


Age

: 24


Location

: The internet

My Character
Mate/Crush: Pfft. As if.
Talents: Being a fluffy ball of anger
Roleplay Items:


Yay, it's Claudia! Will be awesome to see her in RP again :3. Let the name confusions ensue

can that be a running gag or something it would be amazing
Meister





Posts

: 84


Join date

: 2013-05-22


Age

: 24


Location

: Wales

My Character
Mate/Crush: Aderyn (crush)
Talents: Warrior, swimmer, speaker
Roleplay Items:


ahaha, I thought of that Claud! When I was posting the bio I suddenly remember "Oh their names!" :Pahah
Pup





Posts

: 113


Join date

: 2013-07-01


Age

: 24


Location

: The internet

My Character
Mate/Crush: Pfft. As if.
Talents: Being a fluffy ball of anger
Roleplay Items:




Similar topics
---
Permissions in this forum:
You
cannot
reply to topics in this forum