Site News
The Karma Shop is open! Head over to the Karma board under "General Information" to learn more. Feros Ferio!
Plot News
Things are going pretty well for the wolves of Blacktalon. There are a few new recruits who have already proven their mettle by taking on the spring's first mission! With Tristan and Issy together at last, it seems that all is right in the world. Well, unless you're a male of Blacktalon. Bloomsday has never been a holiday that treated them well, favoring the gentler sex and allowing ladies to own the day.
Current Missions
Current Missions
none
Completed Missions
"Tristan and Issy"
Participants: Marina, Chance, Chase, Mikazaru
Member Spotlight

October's Member Spotlight is Brave! Brave is an active member of the roleplay, as well as being a fun person to be around. Congrats Brave!
Top posting users this month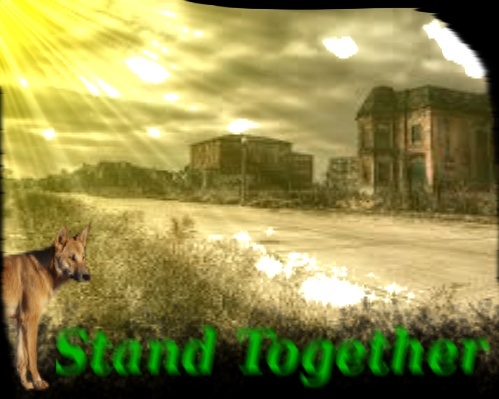 Stand Together is made up of canines. Wild dogs and coyotes roam this space and clash when they meet. What is left of humanity is only the rubble they left behind, all abandoned. Humans were wiped out about 500 years ago, when the sickness came and wiped them out. Canines and other animals were imune. Houses lay abandoned, the wild animals of Australia moveing in.

We are a new site, we hope to make this a friendly active community with interesting plots that are fun for everybody. If you wish to join us please click here.
http://standwithus.forumotion.com/


Similar topics
---
Permissions in this forum:
You
cannot
reply to topics in this forum