Site News
The Karma Shop is open! Head over to the Karma board under "General Information" to learn more. Feros Ferio!
Plot News
Things are going pretty well for the wolves of Blacktalon. There are a few new recruits who have already proven their mettle by taking on the spring's first mission! With Tristan and Issy together at last, it seems that all is right in the world. Well, unless you're a male of Blacktalon. Bloomsday has never been a holiday that treated them well, favoring the gentler sex and allowing ladies to own the day.
Current Missions
Current Missions
none
Completed Missions
"Tristan and Issy"
Participants: Marina, Chance, Chase, Mikazaru
Member Spotlight

October's Member Spotlight is Brave! Brave is an active member of the roleplay, as well as being a fun person to be around. Congrats Brave!
Top posting users this month

Full name:
Marina Adelaide O'Hearn
Nicknames:
-Mari
-Freckles
-Speckles
-Dot
 She is perfectly content to be called by any of these names.
Gender
She is every bit a lady
Age
four years old
Species
 33% European wolf, 33% Belgian shepherd, 33% German shorthaired pointer.
Hey guys, I can't do linearts! Can you tell?
Build and Coat
Marina is of average size, though perhaps a bit on the short side of the spectrum. She may be slim, but she has such a puffy coat you wouldn't notice it. Her legs are gracefully sturdy (if such a thing is possible) and her head is rather rounded, giving her a cute, girlish look. Her tail is thick and very plumy; she occasionally uses it to intimidate.
Coloring
Marina is a very beautiful wolf, and her fur is no exception. Her base coat is a rich auburn that shines blonde in some lighting. Her paws, rump, and face are splashed with white - these white markings are dotted with speckles of the same auburn. Her eyes are a deep, almost royal blue, and they are usually sparkling.
Scars
Marina, despite four entire years of living, has yet to mar her perfect complexion.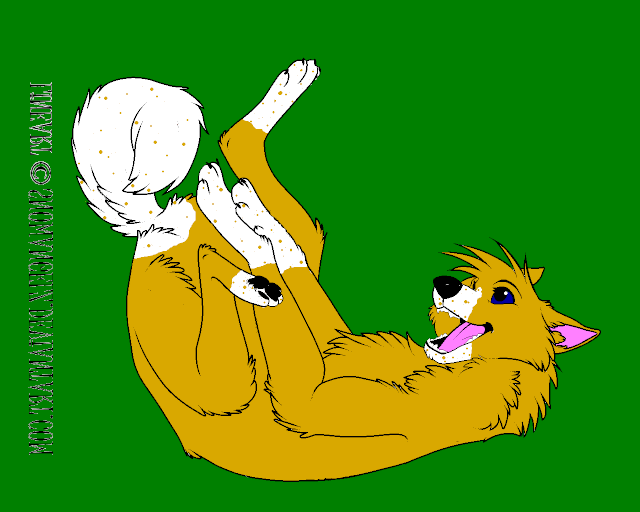 Yep... Still can't do them.
Personality
 Marina's a bright, friendly lass most of the time, but she does tend to have wild mood swings. Her attitude can vary from cheery to indignant to frightened in the space of 30 seconds, and it often does. When she's anxious in any way, she will cover it up with insane-sounding laughter and loud, ditzy rambling; this often causes wolves who are unused to her to grow uncomfortable.
 Marina is quite the feminist, and gets outraged at any sexist opinion. She is very ladylike, but won't hesitate to compete with the males or get completely filthy. When she isn't haranguing about women's rights or babbling in poorly-concealed terror, Marina is very happy and rarely thinks bad about anyone. She's a romantic soul - a bit of chivalry or a good story are some of her favorite things.
History
Marina's father was a no-good stray dog, who disappeared as quickly as he had won over her mother's heart. Adelaide, her ma and her namesake, managed to make a decent living by scavenging around villages and small cities, and was able to give her three children a decent living.
 Marina as a pup lived a semi-nomadic lifestyle, usually hanging around one human area for a few months before wandering to the next (the pup's dog-like pelts made them far less conspicuous at the edges of human towns.)  She spent her early days pampering her younger brother - the only male of the family - and studying the habits of humans. She was the first to disperse and decided to wander, a thing she did successfully for almost a year. Then she met Seamus. Quirky, silly, and as crazy as her, the pair quickly fell in love and spent months roaming the countryside at will, taking on anything that dared cross their path. The two planned to settle down, once they found the most beautiful spot in the world.
 They never made it; Seamus died during an ill-planned river crossing. In her mind, Marina has moved on; although she will always have a big place in her heart for Seamus, she doesn't let her loss impact her life in any way. Or so she claims.
Family
Bones
Father (unknown) WHO CARES ABOUT THE UGLY CAD ANYWAY?
Adelaide
Mother (alive)
Caroline
Sister (alive)
Ainle "Champ"
Brother (alive)
Seamus
Mate (deceased)
Habits
 Marina has a very slight Irish accent, but oddly enough she will use American slang and is not particularly fond of her homeland. She will always stop to listen when human music is playing, especially if fiddles are involved. She has trouble falling asleep due to her PTSD and often has nightmares or hallucinations about Seamus' vengeful ghost.
Strengths
Marina is afraid of very few things. She can handle being close to humans - she even has a quiet fondness of them - and she has little problem with going hungry. Her bright attitude makes her a joy to be around, at least most of the time. Despite the self-invented fear she lives in, she's very optimistic and is hard to depress. She also refuses to let females be devalued in any way. WOMEN'S RIGHTS TODAY
Weaknesses
 She isn't particularly strong. At all. Also, there is the matter of her PTSD that started after Seamus died and she blamed herself. This causes her mood swings and also very vivid hallucinations, in which Seamus' ghost startles her, threatens to kill her, or otherwise wreaks havoc on her nerves. It gets very distressing after awhile.
That Stats thingamajig



------ Character Stats ------

Intelligence: 5
Speed: 4
Strength: 1


Total: 10

-------- Talents List --------

Climber, Scavenger
Lehrling





Posts

: 118


Join date

: 2013-07-01


Age

: 23


Location

: elbows

My Character
Mate/Crush: u get 3 guesses
Talents: She is fabulous
Roleplay Items:




Similar topics
---
Permissions in this forum:
You
cannot
reply to topics in this forum