Site News
The Karma Shop is open! Head over to the Karma board under "General Information" to learn more. Feros Ferio!
Plot News
Things are going pretty well for the wolves of Blacktalon. There are a few new recruits who have already proven their mettle by taking on the spring's first mission! With Tristan and Issy together at last, it seems that all is right in the world. Well, unless you're a male of Blacktalon. Bloomsday has never been a holiday that treated them well, favoring the gentler sex and allowing ladies to own the day.
Current Missions
Current Missions
none
Completed Missions
"Tristan and Issy"
Participants: Marina, Chance, Chase, Mikazaru
Member Spotlight

October's Member Spotlight is Brave! Brave is an active member of the roleplay, as well as being a fun person to be around. Congrats Brave!
Top posting users this month

◊ ● ◊ ● ◊ ● ◊ ● ◊ ● ◊
◊ ● ◊ ● ◊ ● ◊ ● ◊ ● ◊
Name
:
Brave
Age
:
4
Gender
:
Female
◊ ● ◊ ● ◊ ● ◊ ● ◊ ● ◊

"To run with the wolf was to run in the shadows, the dark ray of life, survival and instinct."
◊ ● ◊ ● ◊ ● ◊ ● ◊ ● ◊
Coat color (majority):
A creamy, imperfect eggshell white

Coat colors (minority) :
Other coat colors include a light ash color, sprinkled on her back and darkened at the point behind the shoulders, and a very faint and hardly noticeable shade of beige that lies underneath
Eye color:
Bumble-bee yellow
Build:
Brave is hardly considered beautiful. She has traded her feminine qualities for sturdier, more masculine features. She has a broad head, with diminuitive-looking ears. Her neck is rather short, and flows into large, muscular shoulders. Her front legs are much sturdier and thicker than the average female's, and a tad shorter than her hind legs. Her back is long and wide, her belly makes a rather cone-like shape close to her hindquarters. Her hind legs are longer but not stouter than her forelegs. All of her paws are large and rather cat-like, with long, sharp claws that allow for exceptional grip. Her tail is unproportionate, and shorter than anticipated, but with the same amount of plumage as on an average wolf.
◊ ● ◊ ● ◊ ● ◊ ● ◊ ● ◊
"A fierceness that was both proud and lonely, a tearing, a howling, a hunger and thirst. Blessed are they who hunger and thirst."
◊ ● ◊ ● ◊ ● ◊ ● ◊ ● ◊


Personality:
Brave is oftentimes by herself and can be compared to a loner as she seemingly has no need for the company of others. She does, however, sorely need companionship as wolves are very sociable animals and extended preiods of time alone is not very good for their mental and physical health... and is more often than not  and can intentionally make things awkward as to discourage further conversation with that particular wolf. She can be intimidated, but not by physical appearences, the she-wolf can be intimidated by certain personalities, such as the confident and more assertive type. Overall she is observative, inquisitive, confident, and reasonably eager to get things done.

Strengths:
Strength, Climbing, Surviving, Pouncing, Adaptability, Feigning Confidence

Weaknesses:
Speed, Swimming, Empathy

Fears:
Fish. Totally scared of fish.

Quirks:
Ready to see things as they are. Brave likes to take even the worst things and use them to her advantage.


◊ ● ◊ ● ◊ ● ◊ ● ◊ ● ◊
"A strength that would die fighting, kicking, screaming, that wouldn't stop until the last breath had been wrung from its body."
◊ ● ◊ ● ◊ ● ◊ ● ◊ ● ◊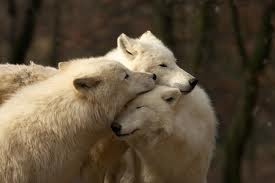 History:
Brave was born in the perfect pack. Nobody quarreled, no pup rebelled, and hardly anybody left permanently. There was no defensive group or protectors, for nobody knew that this pack was there, or they did and wanted nothing with a largely inbred pack. There was perfect harmony and peace... Brave hated it. Named because of her 'Heroic act showing knidness and attention to the welfare of others in need' (In other words, pulling a stupid pup out of the water when he fell in it), she was slightly disgrased, as she stood for everything the pack disliked- rebellion, a fighting spirit, and an unwillingness to blindly obey. She left the pack soon after her re-naming ceremony, and they all wished her good luck, they thought that she would return soon as a responsible adult. She did grow up, and is now a responsible adult, but she still has her fighting spirit that has long since been tested, and she wishes to do something good for the welfare of others- the same reason she acquired her name.

Family-

Siblings (older):
Gradient - Brother

Siblings (younger):
Courage - Brother

Parents:
Cloud - Father
Berry - Mother


◊ ● ◊ ● ◊ ● ◊ ● ◊ ● ◊
Intelligence: 4
Speed: 2
Strength: 4
Talents:
Climber, Scavenger


◊ ● ◊ ● ◊ ● ◊ ● ◊ ● ◊
"The will to take one's place in the world. To say 'I am here.' To say 'I am."
― O.R. Melling
Stranger





Posts

: 73


Join date

: 2013-07-04

My Character
Mate/Crush: Meh
Talents: Climber, Scavenger
Roleplay Items:




Similar topics
---
Permissions in this forum:
You
cannot
reply to topics in this forum