Site News
The Karma Shop is open! Head over to the Karma board under "General Information" to learn more. Feros Ferio!
Plot News
Things are going pretty well for the wolves of Blacktalon. There are a few new recruits who have already proven their mettle by taking on the spring's first mission! With Tristan and Issy together at last, it seems that all is right in the world. Well, unless you're a male of Blacktalon. Bloomsday has never been a holiday that treated them well, favoring the gentler sex and allowing ladies to own the day.
Current Missions
Current Missions
none
Completed Missions
"Tristan and Issy"
Participants: Marina, Chance, Chase, Mikazaru
Member Spotlight

October's Member Spotlight is Brave! Brave is an active member of the roleplay, as well as being a fun person to be around. Congrats Brave!
Top posting users this month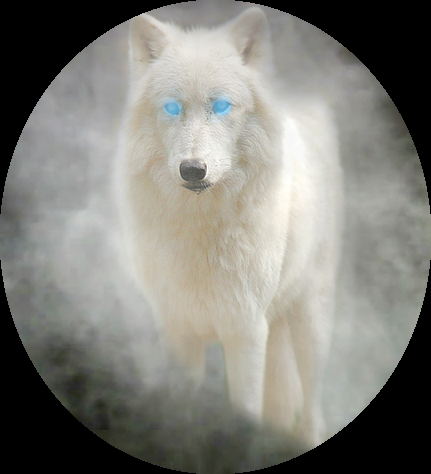 (sorry for how crap this is)

Name:
Fate
Age:
No one knows
Gender:
Neither, but takes a female wolf form
Origin:
No one knows
~~~~
Species:
Spirit
Description:
Fate takes the form of a white wolf. Her fur is the colour of snow and is long in length. Her form often looks almost transparent as she is just a spirit.  She is seen with a soft glow surrounding her body that makes her look even more beautiful than she already is.  She is a slim build, but her aura simply shows the power behind her body. Her eyes glow a bright blue, but behind the glow her eyes are a chocolate brown.  She has no scars on her body as she is simply a spirit and no harm can be done to her.  However, that is the same for anyone she meets. She can not touch, not feel anything or anyone.
~~~~
Rank:
Spirit- Character that will be used for plots
Weaknesses:
She can not touch anyone or anything. She can only tell the prophecies in riddles.
Strengths:
She can warn the pack abut up coming events and how to defeat certain things that come into their destiny.
Talents:
Can tell prophecies.
~~~~
Mate or Pups:
None
Family:
None
~~~~
Personality:
Fate is like a fairy god-mother. She is soft and warm. She has a motherly nature about her. She cares deeply to those she protects. She has a soft spot for Jo and Rebby as she is the one to put the pair together as she knew that they would do great things.  She is very intelligent and uses her gifts to help those in need as she does not only work with the wolves, but all of the creatures that live on earth. However, the pack has wormed their way into her heart and will always have a special place for them.  Though, she is often thought of as mean as her prophecies often lead to death and misery. She rarely has a chance to speak to others, so she has barely any time to explain herself.
~~~~
History:
No one knows her complete history as she has been alive long before the first breath had been taken on this earth.
Pup





Posts

: 113


Join date

: 2013-07-01


Age

: 24


Location

: The internet

My Character
Mate/Crush: Pfft. As if.
Talents: Being a fluffy ball of anger
Roleplay Items:


Oh my gosh, this is a cool character!
And she tells riddles? Let the fun begin. B)
Lehrling





Posts

: 479


Join date

: 2013-07-01


Age

: 22


Location

: the Netherlands

My Character
Mate/Crush: Someone. c;
Talents: Speaker, Caregiver
Roleplay Items: Second character: Jeamesero


Yep! :3 She'll be used for the DDP and BT cross over :3 She tells rhyming prophecies which are basically riddles that the others will have to try and uncode

Glad you like her, Mika :3
Pup





Posts

: 113


Join date

: 2013-07-01


Age

: 24


Location

: The internet

My Character
Mate/Crush: Pfft. As if.
Talents: Being a fluffy ball of anger
Roleplay Items:




Similar topics
---
Permissions in this forum:
You
cannot
reply to topics in this forum