Site News
The Karma Shop is open! Head over to the Karma board under "General Information" to learn more. Feros Ferio!
Plot News
Things are going pretty well for the wolves of Blacktalon. There are a few new recruits who have already proven their mettle by taking on the spring's first mission! With Tristan and Issy together at last, it seems that all is right in the world. Well, unless you're a male of Blacktalon. Bloomsday has never been a holiday that treated them well, favoring the gentler sex and allowing ladies to own the day.
Current Missions
Current Missions
none
Completed Missions
"Tristan and Issy"
Participants: Marina, Chance, Chase, Mikazaru
Member Spotlight

October's Member Spotlight is Brave! Brave is an active member of the roleplay, as well as being a fun person to be around. Congrats Brave!
Top posting users this month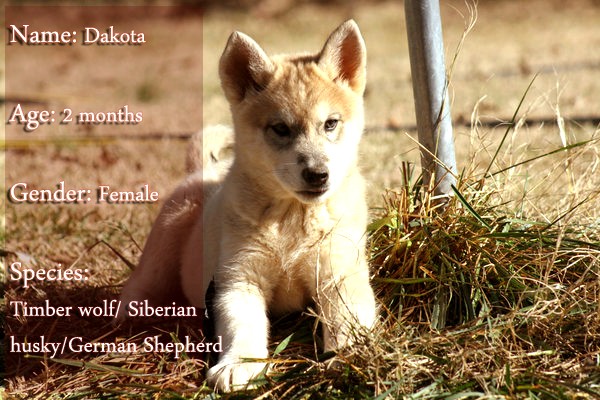 COAT|
Dakota has short, thick fur, that almost makes her look fluffy. Her fur is of a mixture of light and dark creams. On the tip of her head to the back of her ears, she is a slightly darker shade of cream. From the muzzle to her eyebrows, she looks almost white with splashes of cream. She has a black eye mask marking, starting from the end of her muzzle. Dakota has dark brown eyes that are usually full of happiness and warmth. She starts off as a thin pup but then grows into a strong, lean wolf-dog. She is an athletic type and is always running around and climbing things, making her stronger everyday.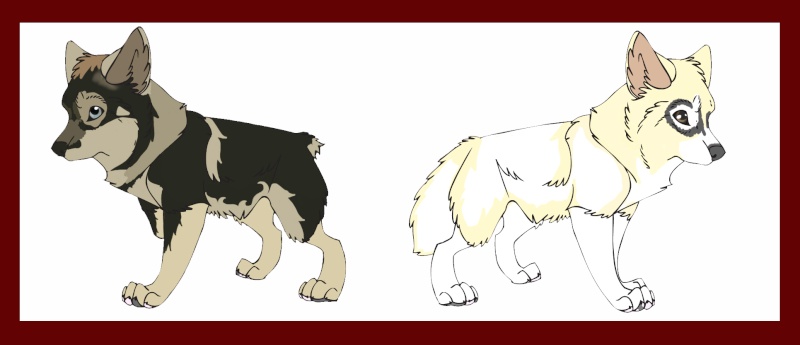 HISTORY| Both Dakota and her brother Damian were born and raised in a dog fighting environment. Both of their parents were fighters and that is how they were born into the fighting world. They were set to be trained to become fighting dogs/wolves just like their parents. However Damian got injured by another dog during a fight. He had to have his leg removed and his tail, that is why he has a stub for one of his legs and a docked tail. His once planned dog fighting career had ended and he was set out to be a training dog. He would be a punch bag for anyone else.

Dakota loved Damian, and when this happened she could not stand to for Damian to be treated like a punching bag. There was no way she would let that happen. She hated the life and her brother being injured was the last straw. She devised a plan to escape with Damian and they've been travelling together ever since.

They've only had each other for the longest time, so they are close with one another, despite their sibling fights and teases.
_______________________________________________________________________________________
PERSONALITY| Dakota is a happy pup who loves her brother very much, though she loves to tease him so much more; but if that isn't love, then she doesn't know what is. She is very different from her twin brother and often gets in scraps and battles with him to see who is the best (or mainly because Dakota likes annoying Damian and he doesn't take it too well). Out of the two she has the happier personality; she is pretty cheeky to her brother and others, though it's all in good fun. She would never intentionally say something to hurt her brother, though if he's in the wrong then Dakota is going to tell them about it.

Dakota has a strong relationship with her brother; he's the only other wolf/dog she's really interacted with properly. They have a typical sibling bond in which they annoy each other but still secretly love each other (At least that is what Dakota keeps telling Damian, despite him denying it.) She loves teasing Damian and finds his reactions endlessly amusing. She will often poke fun of him, but she's allowed because they're related and it doesn't offend Damina anyway. Though if Damian truly needed help with anything then she would immediately be at his side. Damian is the only family she has left and she is protective of that fact at times. That being said, it doesn't mean she's over protective; she knows that despite Damian's disability, he can stand up for himself.

Despite Dakota's upbringing, she has chosen to take a new leaf and become a more positive wolf-dog. Though that being said, Dakota still has her angry moments. When she gets angry; Oh boy, you better watch out! She has a rapid fuse once ignited and will explode on anyone that crosses her line. She has a fighting spirit and a determination to get the job done meaning she wont give up without a fight.

Though Dakota is the 'happier' of the siblings, she can get jealous of the attention her brother recieves. It makes her lash out more and do things for attention. She hates living in his shadow and feels that people put her there because she's not the cripple. She gets annoyed at that because she has scars and wounds, but because Damian's are on show, then he gets all the attention.

It's a complicated factor about her, because she doesn't want the attention so people will feel sorry for her. She's not sure why she wants to attention, though it does boil down to sibling rivalry. Dakota vs Damian. She wants to be better than her brother, and that's that. (Though she already says she is)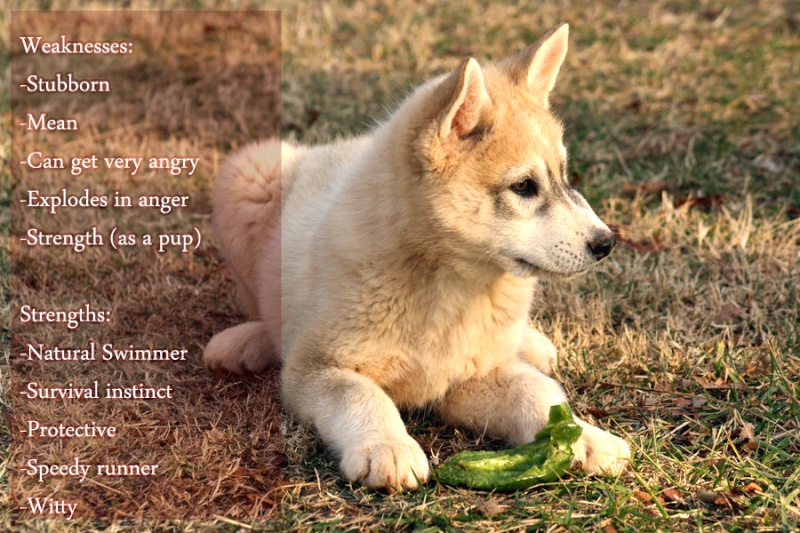 TALENTS|
Annoying her brother
Hating Claudius

RANDOM FACTS|
-Jealous of her brother being put in the limelight all the time
-Suffers from hay fever
-Is a ticking time bomb once angered.
RELATIONSHIPS|
Damian- He's her brother, and though they fight, they will stick with each other until the end.

Agro- He's the boss. That's how Dakota sees him. Though the rebel in Dakota means that she doesn't always listen to him unless he does his 'papa Agro voice'. She's cheeky to him, and actually likes him (Shh! don't tell him)

Claudius- Waste of space. Useless. She hates the chap.

Mikazaru- Her own personal tissue. Though she's glad he has a backbone now. She wouldn't be able to stand him if it didn't.

Marina- Tolerates her (that's as close as anyone will get to Dakota liking them. Apart from Damian and Agro)

Chance- Fun to tease. Actually slightly impressed that he has a backbone too. He's her teasing toy, basically.
Pup





Posts

: 113


Join date

: 2013-07-01


Age

: 24


Location

: The internet

My Character
Mate/Crush: Pfft. As if.
Talents: Being a fluffy ball of anger
Roleplay Items:




Similar topics
---
Permissions in this forum:
You
cannot
reply to topics in this forum