Site News
The Karma Shop is open! Head over to the Karma board under "General Information" to learn more. Feros Ferio!
Plot News
Things are going pretty well for the wolves of Blacktalon. There are a few new recruits who have already proven their mettle by taking on the spring's first mission! With Tristan and Issy together at last, it seems that all is right in the world. Well, unless you're a male of Blacktalon. Bloomsday has never been a holiday that treated them well, favoring the gentler sex and allowing ladies to own the day.
Current Missions
Current Missions
none
Completed Missions
"Tristan and Issy"
Participants: Marina, Chance, Chase, Mikazaru
Member Spotlight

October's Member Spotlight is Brave! Brave is an active member of the roleplay, as well as being a fun person to be around. Congrats Brave!
Top posting users this month

Well hello there, Caroline! Can we have your full name?
  Caroline Elleen O'Hearn.  
Ah, and I see Marina is your sister!
 I assumed that was already established.  
You got any nicknames?
 ... Carol.  
Right, so how old are you, Carol?
 I am four years old, although I look younger.
 Yes, you're a babe. Since you're related to Mari, it's no secret that you're a hybrid. What kind of a mix are you?
 My mother was pure wolf, and my father - not that I would call him that - is a mix between a German Shorthaired Pointer and the Beligian Shepherd. As you can probably tell, I only inherited genes from the first and the last. 
 Describe your lovely self!
 *smiles* Well, I am of average build, a bit on the svelte side I suppose, and I'm not going to deny that I'm an attractive animal. I admittedly look more dog than wolf, with a tight waist and charmingly large ears (my worst feature, I think.) My coat is golden - save for the cream on my underbelly, my chin, and the inside on my tail. I have icy blue eyes.  
And here's a picture! 
Oh, of course, choose a dreadful picture of me.  
Fine, whatever. How about this?
 Much better, thank you. 
What's that thing in your ear?
 I have no idea.  
Okay, I'm just gonna come out and say it - Do you wear colored contacts because your eyes are like, crazy.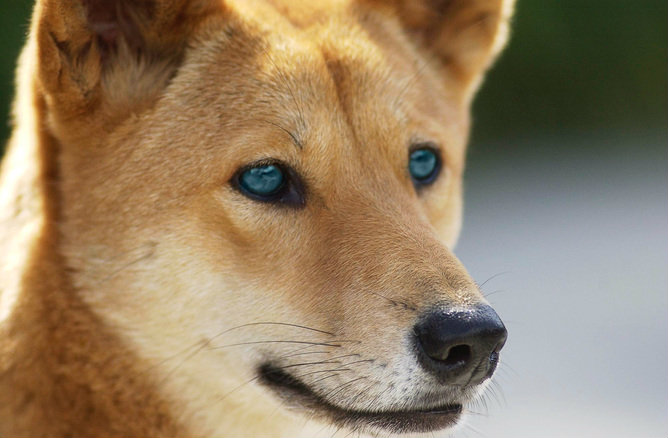 Don't let jealousy make you an idiot, honey. Wolves don't wear contacts. We don't
need
contacts. 
But your eyes are teal sometimes and icy sometimes. SEE!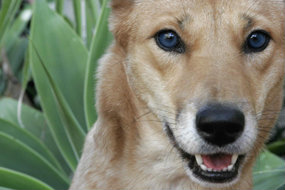 Merely a trick of the light. When the sunlight reflects off my eyes, they appear teal. They really are ice blue. 
  Very pretty. On to other matters... How do you feel about seeing Marina again, after all these years?
My, that's a frightening thought! The last time I saw her, we were barely more than girls! Of course I'm just
dying
 to see her again.  
Well it seems she's done pretty well on that manhunting thing. 
 ... Yes, I'll admit I'm a bit surprised. 
Oh, really? What do you mean?
 Well, I don't know of her behavior
now
, but when I last saw her, she still acted like very childish - I'm not sure if she could hold down a relationship with her silly adventurism. Besides, she's a beautiful girl but those spots all over her face aren't the most attractive accessory. And she's a bit short. 
Well, she got married and now she has a love interest so HA.
Are you here to interview me or criticize my answers? 
Whatever. So how would you say that YOU'VE changed since we last saw you?
  Oh, I suppose I've gotten a bit more cynical towards others, and a bit more confident in myself. I'm not going to let anyone get away with pulling crap on me. If I want something, I am going to get it. I also no longer care if anyone likes me or not - I'm brutally honest and I say what's on my mind. 
I noticed. Be brutally honest with me!
 I take it you don't have access to a healthy die-
Okay, enough honesty. Before our interview, I happened across and old friend of yours and asked him for five words to describe you.
 Are you serious?
Here are the five words: catty, cold, arrogant, vain, and a jealous... Well that's five words.
Care to rebuttal? 
 Well I - who was this? Obviously someone with a vendetta against me. I am not
catty
. I'll admit I don't get along with females, usually because they are jealous of me. And don't go saying that's a sign of my arrogance! I don't flaunt what I don't have - I am beautiful and I am confident, and I have every right to say so. What said wolf called cold, I call aloof. I need to calculate a situation before I get emotionally involved. I'll admit to being vain *cocks head haughtily* I'm afraid it's a side-effect of being beautiful, but I wouldn't expect you to understand that. 
How rude. Well, you didn't mention jealous.
 I'm not even going to comment on that. It's absurd - I have nothing to envy in anyone else. 
Do you have any habits?
 I flick my tail in a somewhat cat-like manner. Perhaps that's what your informant meant when he said 'catty'.
What would you say are your strengths?
 Well, of course, my looks. My candidness is another, although some might say otherwise.
  I am assertive - if I want something done or said, I'm not afraid to do or say it. I have no qualms with working for what I want, and I'm not so desperate to please everyone that I worry about hurting someone's feelings. That gets in the way of life, you know. But I've told all of you this before.
And your weaknesses?
 *frowns, obviously in deep thought* I suppose I am only average in physical nature. I blame it on my dog father - one cannot compete physically with wolves when her blood is sullied so. I manage to make up for it with my wit, however. 
 Oh geez. Let's move on to history. We already know your childhood - what did you do after Marina left?
 Well, I stayed with my mother and my brother for awhile longer, but Mari's adventurousness had rubbed off on me, and I was itching to see what I could do for myself. So I bade my little family goodbye, and set off for myself (I don't know what's become of them, but I assume they are well.) 
  I spent a few months skirting the edges of town, as I was accustomed to do, and made an easy living for myself as well as a few domesticated friends. They were astounded at my ability to live in both worlds - the easy life of a dog, and the free life of a wolf - but I guess they weren't quite clever enough to try the style out for themselves. 
 Eventually I grew bored of this, and knowing full well that I could return to town living if I needed too, I struck off into territory inhabited not by humans, but by wolves. Here I was at first ogled at because of my appearance, though I soon gave the males reason to be wary of me. I meandered - I'm not sure how far - and found myself here. 
Man so much less dramatic than I thought. Was your life really that boring?
 ... Well I'm afraid that more juicy details should not be shared in an interview. 
Too bad. You have to tell me.
*heavy sigh* Well, during the winter after I became a dispersal, I grew very hungry. Prey was scarce, and as I was better at scavenging than hunting, I struggled to find enough to eat. Soon I was very emaciated; I found a town, and was going through someone's refuse when the human opened the door. I was terrified, until he invited me inside, and I agreed, because it was freezing outside. The man, with a white beard and a very kind soul, not only allowed me to stay the night and dry my fur by the fire (which I was terrified of at first), but also allowed me to live with him. I did. He fed me until I regained my strength completely, and we were constant companions. He didn't control me like other humans controlled dogs, but instead allowed me to go unchained as we went on daily walks into town. 
 When it was spring again I left him, merely trotted off without so much as a glance over my shoulder. He called after me, but I ignored him - I didn't want him to chain me as if he owned me, otherwise I would have said goodbye first. I spent about two months as his friend, after which I resolved to be completely my own wolf. He was very kind, though, and I wonder how he's doing. 
Do you miss him?
 *forehead wrinkles* ... of course not! I enjoyed his companionship. I'm no dog, however. I don't
need
 humans. 
... Right. So, any love life to speak of?
 I've had short relationships, here and there. None of them have worked out particularly well. 
Details!
 No. Let's simply say that so far I've only managed to date chauvenist jerks and wolves who are not mature enough for a relationship.  
Dang. Well, I think that's pretty much it. Caroline O'Hearn, everybody!
 Thank you for having me. *rolls eyes*
     ------ Character Stats ------
     Intelligence: 4
     Speed: 2
     Strength: 4
                      Total: 10
     -------- Talents List --------   
 Speaker, Swimmer
Lehrling





Posts

: 118


Join date

: 2013-07-01


Age

: 23


Location

: elbows

My Character
Mate/Crush: u get 3 guesses
Talents: She is fabulous
Roleplay Items:


Great character! Can't wait to see her in RP. :3
Meister





Posts

: 84


Join date

: 2013-05-22


Age

: 24


Location

: Wales

My Character
Mate/Crush: Aderyn (crush)
Talents: Warrior, swimmer, speaker
Roleplay Items:


Awesome charrie!!! I read her post before seeing this. I got so confused!!! I love the dog in the picture. This pack is basically full of wolf-dogs

(Heads up to mods- You forgot to move it to accepted or wherever it's going. It's still pending. Unless you know that, then forget about this :3)
Pup





Posts

: 163


Join date

: 2013-06-27


Age

: 24


Location

: Itty bitty living space



I have a funny feeling she isn't going to like Claudius very much XD.
(I don't have moderator access to the forums, otherwise I'd do it, so we'll have to wait for Agro.

)
Meister





Posts

: 84


Join date

: 2013-05-22


Age

: 24


Location

: Wales

My Character
Mate/Crush: Aderyn (crush)
Talents: Warrior, swimmer, speaker
Roleplay Items:


I really love the way you've wrote this out! It so suits her character and gives us a feel for what she's like without having to write out paragraphs and paragraphs :3 so well done on coming up with a quirky way :3
Also, I don't think Dakota is going to like Caroline one bit, ahah. So that meeting should be interesting

Pup





Posts

: 113


Join date

: 2013-07-01


Age

: 24


Location

: The internet

My Character
Mate/Crush: Pfft. As if.
Talents: Being a fluffy ball of anger
Roleplay Items:




Similar topics
---
Permissions in this forum:
You
cannot
reply to topics in this forum